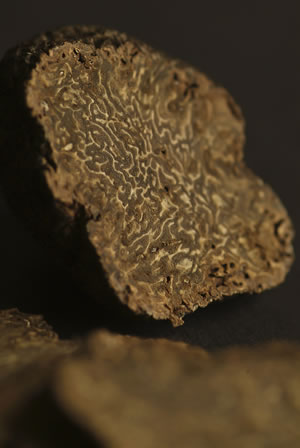 Vaucluse is France's top truffle producer. 
The village of Ménerbes has for some years now sought to be a leading promoter of this classy product of its land notably by organizing the traditional Truffles market every year end between Christmas and New Year's Eve as well as by hosting the « House of the Truffle and Wine of the Luberon ».
The truffle starts to appear in Vaucluse marketplaces early November. It finds a place on everyone's table, from the refined dishes of the top chefs to the unassuming simplicity of the 'brouillades' – scrambled eggs laced with crushed truffles that you can find in many cafés and family kitchens.
Is a single truffle enough to go round for a whole family meal?
Definitely !
Here is a local trick: after you've bought your truffle, brush it down and place it in the fridge for a day or two in a sealed jar full of whole raw eggs. The perfume of this mushroom is so strong that it will permeate the eggshell!
Then you will be ready to make the most succulent of omelettes and also save the truffle to make the stuffing for your poultry.
Another delicious dish for end of year wining and dining: truffled Brie. Open the Brie widthwise, lay out thin rashers of truffle and close it up again. Eat with green salad seasoned with olive oil (also perfumed with truffle!).


The truffle, or 'black diamond', is a rare mushroom that sells for a high price – depending on the season it can range from €400 – €1000 a kilo!
By the way, purchases on the professional markets in Apt or Carpentras are usually discreet affairs that happen in a flash – those involved showing all the body language of grand schemers!

Setting aside those markets, you are invited to come to the heart of the Luberon, discover the « Petit Marché aux Truffes de Ménerbes », which takes place on the first Sunday after Christmas in a festive and friendly atmosphere. It takes place on the town square of one of the finest villages of France, in the presence of the members of the Truffle Guild and many celebrities.
In a superb C17th townhouse you will discover the « House of the Truffle and Wine of the Luberon » : exhibitions, boutique replete with books, objects and produce connected to the truffle, and a fine table!
And if for some reason you can only make it after the Christmas season, do not worry: the best truffles are generally found in January and February and the Maison de la Truffe can run up for you a simple brouillade or a gourmet menu with truffles from starters to desert …. what better end to a meal could there be than truffle-laced chantilly cream to go with a chocolate mousse?!
Claire Vincent: « Le Vaucluse: berceau du diamant noir ». 27/12/11.